More and more, people are seeking alternatives to traditional medical treatment. You may be one of the millions of individuals looking for an injury doctor that doesn't just rely on potentially addictive medications or expensive surgery. Chiropractic care focuses on supporting the nervous system and restoring muscle, ligament, and joint function through the use of adjustments. Chiropractors focus on the diagnosis, care, and prevention of many types of disorders. However, there is a lot of misinformation regarding chiropractic treatment. The following are five common myths about chiropractic care.
Chiropractic Myths Infographic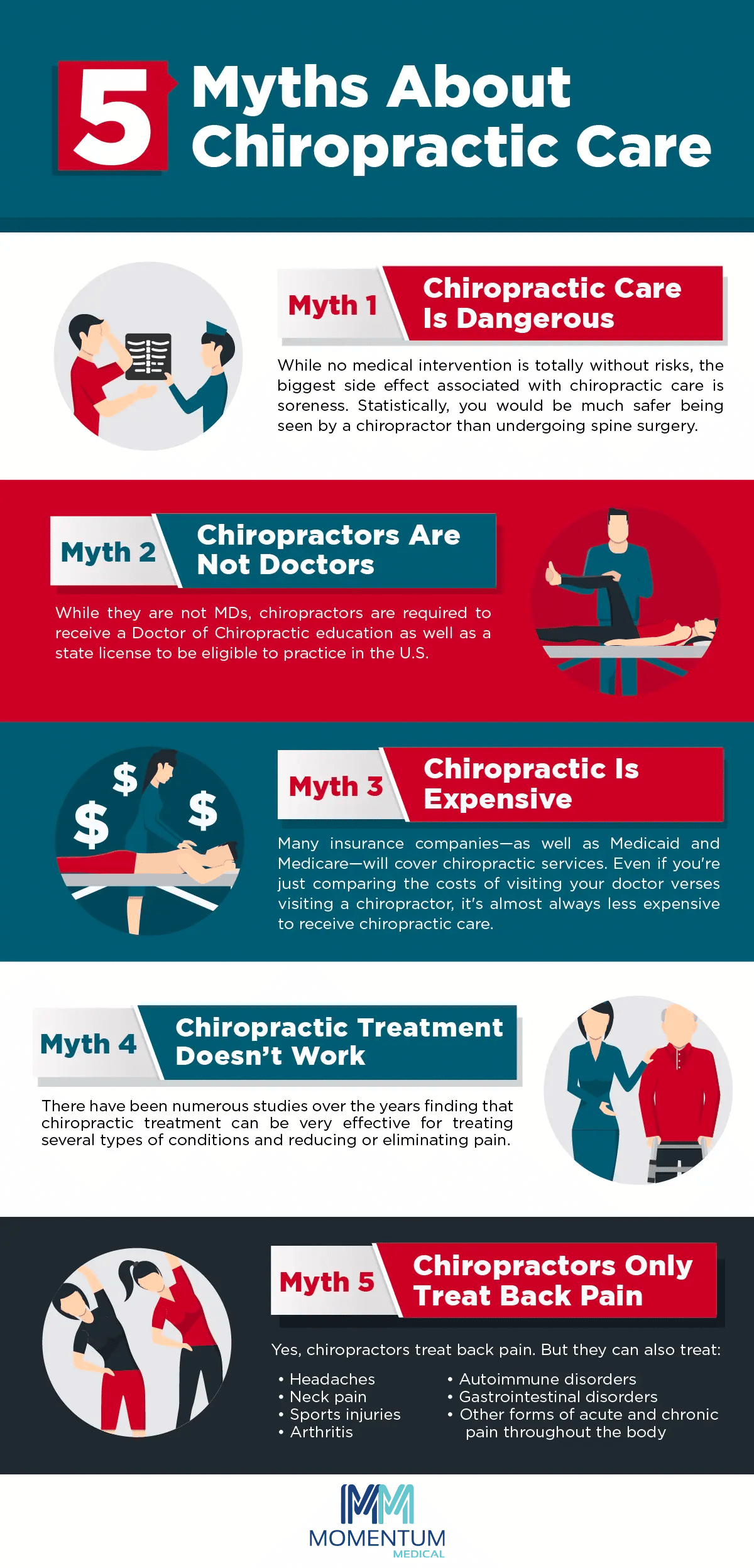 Top 5 Chiropractic Myths
1. Chiropractic Care is Dangerous
One of the prevailing myths surrounding chiropractic care is that it is unsafe. In reality, chiropractic care is usually less invasive than conventional medical care. It's important to know that spinal and other types of adjustments are made to help the body restore its natural mobility. Visiting a chiropractor may enable you to find relief from a variety of conditions without having to rely on invasive surgery or potentially addictive medications.
Painkillers, steroids, and even different types of surgery can be more dangerous than visiting a chiropractor. While no medical intervention is totally without risks, the biggest side-effect associated with chiropractic care is soreness. Statistically, you would be much safer being seen by a chiropractor than undergoing spine surgery. Many people believe that bones are being shoved in and out of place during treatment. However, the popping sounds that are often heard are actually fluids surrounding the joints as they're being stretched.
2. Chiropractic Physicians Are Not Real Doctors
Many people may believe that chiropractors are not actually doctors. While they are not MD's, chiropractors are required to receive a Doctor of Chiropractic education as well as a state license to be eligible to practice in the United States. There are several national board exams these medical professionals are required to pass, as well as exams in any state they wish to practice in.
The educational requirements for chiropractors are actually quite rigorous. Many programs are similar to the course of study that is required of medical students. Chiropractors have four years of undergraduate education and will complete approximately eight years of higher education before they are ready to practice. This is similar to what many other doctors are required to have. It's also important to note that chiropractors normally have lower premiums for malpractice insurance than many other healthcare professionals because of the high safety record associated with chiropractic care.
3. Chiropractic Treatment Is Too Expensive
You may believe that it is too costly to receive treatment from a chiropractor. Many insurance companies, however, will cover chiropractic services. Medicaid and Medicare will also cover certain treatments. Chiropractic services are covered under Medicare part B, while Medicaid coverage will vary depending on which state you live in.
Chiropractic treatment can also be seen as a type of preventative care. This type of treatment may help reduce the need for surgery or lengthy hospital stays that would almost certainly cost much more than visiting a chiropractor. Even if you're just comparing the costs of visiting your doctor verses visiting a chiropractor, it's almost always less expensive to receive chiropractic care.
4. Chiropractic Care Is Not Effective
Another of the most prominent chiropractic myths is that chiropractic treatment isn't that effective. Chiropractic treatment can be very effective for treating several types of conditions and reducing or eliminating pain. A review conducted by the National Center for Complimentary and Integrative Health found that approximately 74% of individuals in the United States have used chiropractic care to reduce back pain at some point during their treatment.
There have been numerous other reviews conducted in recent years that have shown chiropractic care to be a viable option for many people. Many individuals will experience immediate relief after seeing a chiropractor, while others may find their condition gradually improves after several visits. Whether it's recovering from an accident or treating a chronic condition such as multiple sclerosis, working with an experienced chiropractor may provide effective relief for several types of injuries and conditions.
5. Chiropractors Only Treat Back Pain
One of the biggest chiropractic myths is that these types of doctors can only help if an individual is suffering from back pain. While chiropractic care is certainly a good option if you're looking for a back pain doctor, there are other conditions that it can treat as well, including:
Headaches
Diabetes
Autoimmune Disorders
Gastrointestinal Disorders
Acute and Chronic Pain Throughout the Body
Chiropractic care affects the entire nervous system, which is related to a variety of ailments and conditions. Due to the nature of chiropractic treatments, they may be used in conjunction with other medical treatments to reduce or eliminate pain. This type of treatment ultimately helps your whole body stay functional and healthy.
Chiropractor Daytona Beach
Chiropractic care can help reduce pain and get you back to a high level of activity. If you're looking for chiropractic services in Daytona Beach, contact Momentum Medical of Daytona Beach. We offer treatment for headaches, back pain, neck pain, sports-related injuries, auto accident injuries, and more. We utilize state-of-the-art medical equipment and are conveniently located right next to Halifax Health. All of our staff are compassionate and experienced professionals dedicated to providing excellent care to our patients. Contact Momentum Medical of Daytona Beach today to schedule an appointment and begin your road to recovery.