No one anticipates being involved in a car accident or for the potential nightmares that can follow—feeling lost, confused, violated, and even severely injured in the blink of an eye.
Last year in Florida alone, there were 401,851 reported auto accidents with 254,484 reported injuries. That means over 50% of reported auto accidents resulted in some kind of injury.
While the type and quantity of injuries you might sustain will vary with the details of each accident, you can still prepare for the aftermath. The infographic checklist below will show you exactly what to do after an auto accident.
Car Accident Checklist Infographic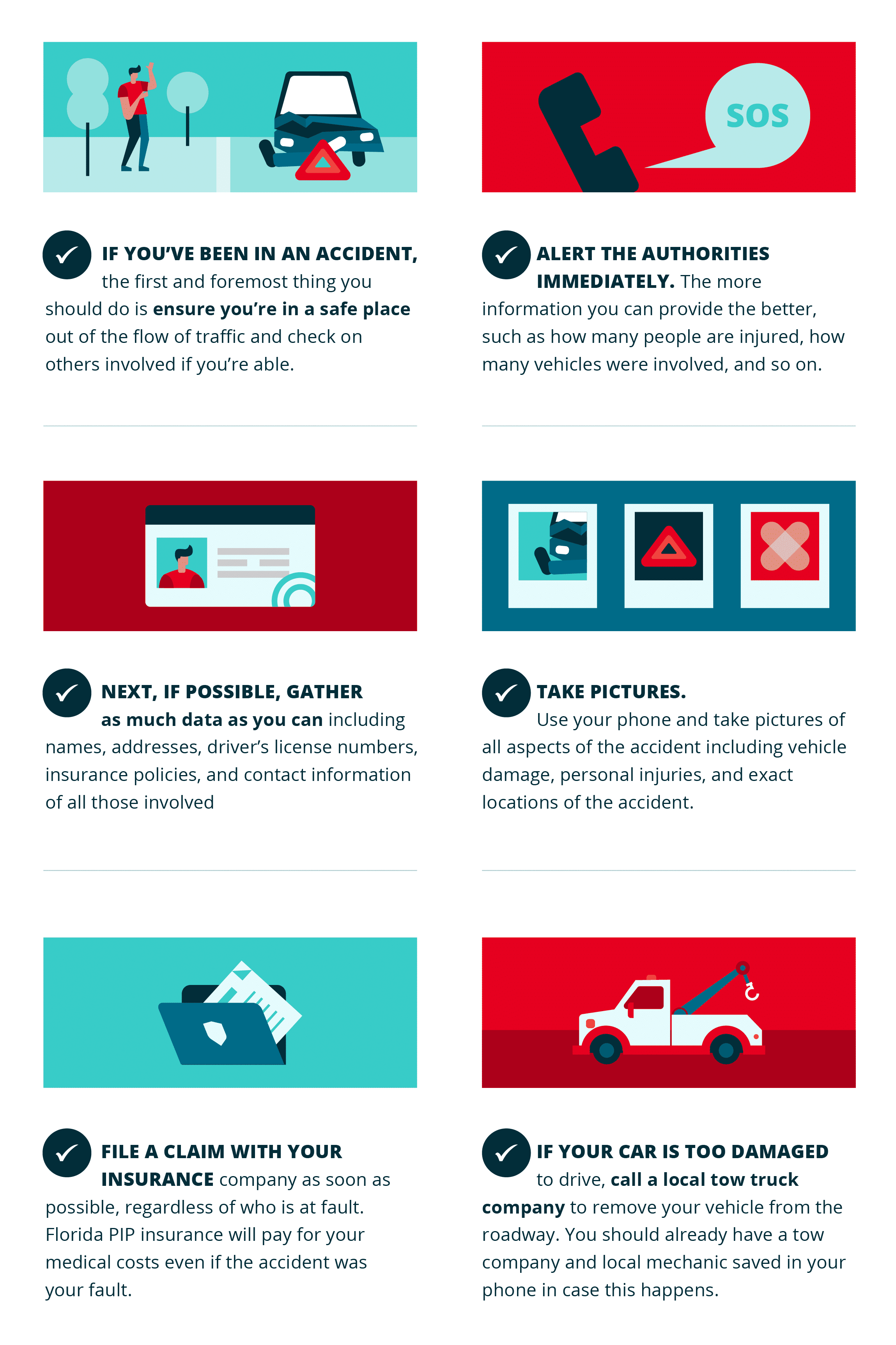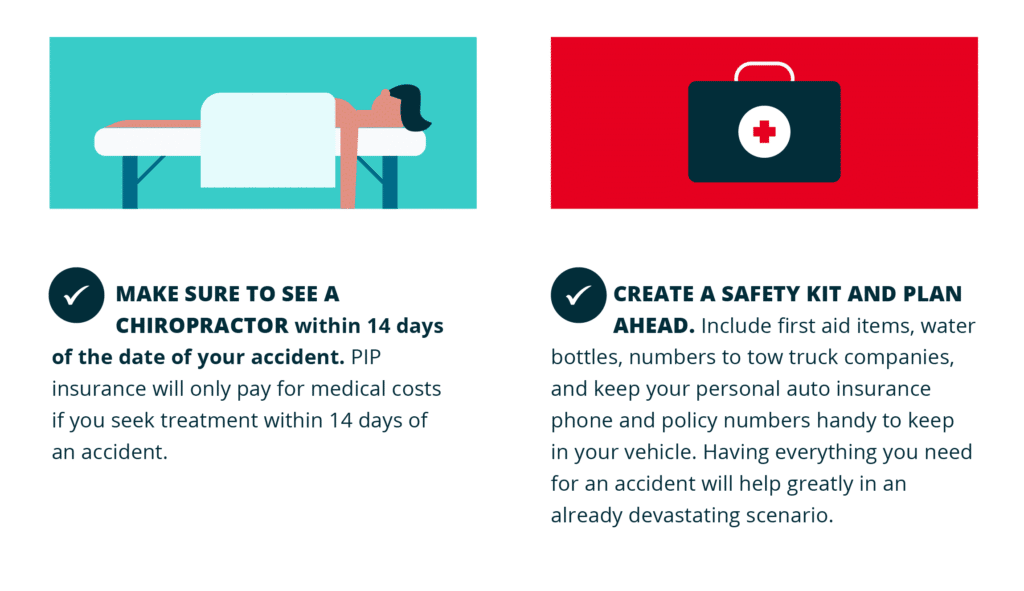 Step 1: Get to Safety
First and foremost, the safety of you and your passengers is the most important thing to consider. Although you should never leave the scene of an accident, you have every right to ensure you're in a safe location where no other damages or injuries are a threat. Remove yourself and your loved ones from the roadway, malfunctioning or damaged vehicles, or from any other hazards where the accident occurred. If possible, move your vehicle out of the road as well.
Step 2: Call 911
As soon as you've established a safe environment, alert authorities immediately – even if the accident was supposedly a fender bender or another party involved has asked you not to. It is in your best interest to call the police and file an accident report. This not only benefits you, but ensures the safety of other drivers as well.
Local law enforcement are familiar with traffic patterns and will know if rerouting traffic or shutting down lanes is necessary to avoid further complications. This also ensures ambulances and fire trucks will arrive as soon as possible for those in need of emergency care and vehicles that pose an increased threat after the crash.
Step 3: Get the Other Driver's Information
While you're waiting for law enforcement or tow trucks to arrive, start gathering information related to the crash. Collect personal data from everyone involved such as:
First and Last Name
Street Address
Phone Number
Driver's License Numbers
Insurance Policies
All Involved Vehicle Makes and Models
Witness Names and Contact Information
Getting all of this information at the time of the accident, while everyone and everything is right in front of you, makes it much easier to move forward with an insurance or legal claim down the road. Keep a pen and notepad in your glove box at all times or utilize your cell phone's note and photo taking capabilities to record this information.
Step 4: Take Lots of Pictures
Most people now have cell phones with cameras in them. Use your phone to take as many photos as possible of any damage to your vehicle and injuries to you and your passengers. It is also wise to take photos of the other vehicles involved, other driver's injuries, VIN numbers, and license plate numbers – regardless of the other driver having damage to their vehicle or being injured.
Documenting as much information as possible will make filing a claim with your insurance easier, could help establish fault, and can protect you if the other driver falsely accuses you.
Step 5: File a Claim With Your Insurance Company
It is vital to file a claim with your insurance company on the same day that the accident occurred. Provide them with all of the data you've collected and your take on the accident. Your PIP insurance coverage, which every driver in Florida is legally required to have, will pay for medical costs and/or lost wages even if you caused the accident.
Step 6: Call a Tow Truck If Needed
If your vehicle is too damaged to drive or totaled, contact a local tow truck company to pick it up as soon as possible. This helps clear the roadways of the wreckage and other debris to avoid causing hazards to other drivers.
Keep a local business in mind and save their phone number in your phone for emergencies. Check with your car insurance provider to see if they already offer free emergency roadside service or if it can be added for a small fee. You can also invest in memberships such as AAA that provide you with free tows, among other services, for an annual or monthly fee. An average of $15-100 per year is a small price to pay for peace of mind in an already harrowing situation.
Step 7: Seek Medical Attention
While it may seem like a good idea in the moment to refuse to get checked out by an EMT or take a trip to the hospital because you think you're fine, it's a bad idea in the long run. It can take days, weeks, or even months for physical symptoms of certain accident related injuries to surface.
Go to the hospital immediately after the accident and let their medical staff make sure there isn't anything wrong that you may not know about. Your life is far more valuable than your vehicle. If your car needs to go to the shop, then so do you.
Step 8: Visit a Chiropractor
Car accidents are infamous for causing injury to the head, neck, back, and spine. Many of these injuries often go unnoticed for long periods of time before they're caught, which may result in the condition becoming worse, or in some cases, irreversible. However, you only have 14 days from the date of the accident to see a chiropractor and have it covered by your PIP insurance.
Even if you don't think anything is wrong or feel any pain, it is in your best interest to get yourself checked out. It's important to see a neck and back pain doctor before minor conditions today turn into debilitating conditions down the road.
BONUS—Step 9: Create a Car Accident Safety Kit
Whether you've already been a victim of an accident or are just curious about what to do in one, it's never too late or too early to make a safety kit. Keep a small, easily accessible container in your vehicle and include items such as:
Bandages and Neosporin
A Copy of Your Insurance Card
Extra Cell Phone Charger
Road Flares or Safety Reflectors
Flashlights and Batteries
Emergency Car Escape Tool
Damages from an accident are not just physical. Depending on the circumstances, you may still be in shock, feel disoriented, and even feel devastated after an accident. Preparing a safety kit will make getting through an already difficult situation a little easier.
An Auto Injury Doctor Can Help
The time after an auto accident can be overwhelming and, as a result, your injuries can take a backseat to other issues. However, you can follow the steps outlined in our car accident checklist to make sure you get everything done that needs to be done – including treatment for any injuries you may have sustained, before they get worse. Make an appointment with your local auto injury doctor today to ensure you're on the right path to make a full recovery.